Shop small, handmade, local
As always, Small Potatoes baby gifts and accessories are available on a made-to-order basis. I offer contactless pick-up in Winnipeg and shipping across Canada and worldwide. If you want to ship a gift, please be sure to include a greeting for the gift enclosure in the shopping cart. Thanks! - Holly 
Thanks for stopping by the cutest little corner of the web. Small Potatoes is a Winnipeg-based, online shop specializing in hand-made baby clothing and accessories. If you're looking for something for your own little bundle of joy or a unique baby shower gift, you're sure to find something cool and stylish here.
Start Shopping

Check out the newest items in the shop:
---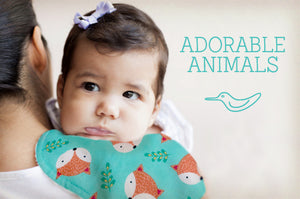 Adorable Animals
From beavers to penguins, click here to shop for adorable baby gifts featuring unique prints from the animal kingdom.
Shop Now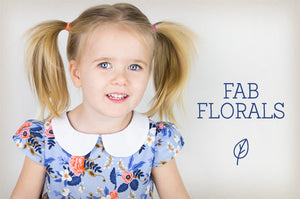 Fabulous Florals
From large scale blooms to petite petals, click here to shop this curated collection of floral-themed products.
SHOP NOW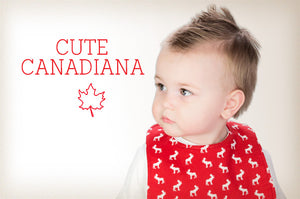 Canadian, Eh?
For all things Canadiana, this collection will delight all day long (despite our shorter daylight hours in winter).
Shop Now
What Cute Baby Stuff are You Looking For Today?
Warm Fuzzies From Customers
We received our order in the mail a few days ago – the burp cloths ARE GORGEOUS!!!!!!!!! What craftsmanship!!! And the fabrics are sooo lovely and soft... totally in love with them, I am trying to find a way to display them in the nursery!! Thank you so so so much for these beautiful baby things, I will definitely be ordering more from your website!!!

Brigitte
I picked up my order yesterday, and I love them all. My favorite has to be the blanket and the wonderfully soft fabric you used on the back side of the printed fabric. They will be wonderful gifts to the many friends I have that are expecting. I will be ordering again from you, for sure! Thanks again!

Stacy
I have two baby shower gifts to get, pronto! Whenever my husband or I have friends who have babies, we go to your site first. One of the women we gave a dress of yours to, was so thrilled with it that her daughter was wearing the dress a couple of months before she actually fit into it. This mom is pretty particular so it was a bit of a feather in our cap that we got something she liked that much!

Deanne